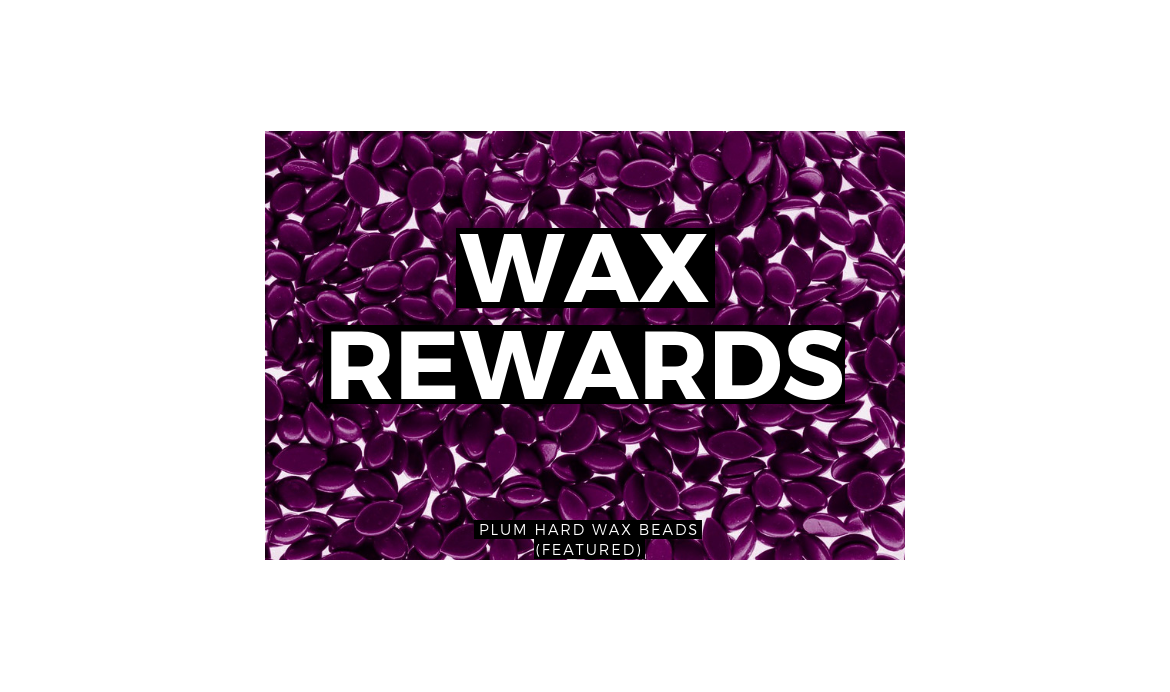 Wax Rewards
WAX REWARDS PROGRAM
At Hard Wax Solutions™ everyone deserves to rewarded for their loyalty. That's why we created the Wax Rewards Program to reward YOU: our most loyal clients and referees.
You'll earn points for each dollar amount you purchase, You'll earn bonus points for doing easy things like taking a class or sharing us on social media!
Want to refer others to us? - Please email hardwaxsolutions@gmail.com for your special coupon code - This is how we keep track of how many people you bring in under your account email. This special coupon code can be used at checkout and will record your referral.
For every 50,000 points you earn, you'll receive Wax Reward points = $20 to spend on services, products, or gift certificates. There is NO LIMIT to how many point you can accumulate.
When you are ready to redeem your points please email: hardwaxsolutions@gmail.com and we will send you a special code to redeem on your next purchase. This is our way of saying we appreciate you!
Earning VIP Points
Here's how you earn points:
| | |
| --- | --- |
| Activity | Points Earned |
| Spend $1 at Hard Wax Solutions™ in-store or online | 100 |
| Referral Bonus - Refer a friend who makes a purchase online or in store. Please email hardwaxsolutions@gmail.com for your special Referral code! | 1,000 |
| Sign up and ATTEND a Hard Wax Solutions™ Class - Online / In Person | 5,000 |
| Share a post on social media (Facebook or Instagram), tag #hardwaxsolutions #waxness & tag 3 friends (Must be different friends each post) - Please email Screenshots to hardwaxsolutions@gmail.com and include your email that is linked to your Hard Wax Solutions™ account, to receive your Wax Reward points - (NO LIMIT) | 10 |
| Spend $5,000 in one calendar year with us | 100,000 |
| | |
We have a very intricate system that tracks your points, but if you are unsure of how many points you have, do not hesitate to email us with your request. Please allow 24 hours for a response.
Redeeming VIP Points
Once you've earned 50,000 Wax Points, we will send you an email alerting you that you have earned a Wax Reward! This requires that you have a valid email address in our system and that you have not opted out to email communication. You will be sent a special, one time use Coupon Code to use on your next order. This coupon code will reflect the Wax Reward.
You may redeem your Wax Rewards on Products & Classes.
Enrolling in the VIP Program
You are automatically enrolled in our Wax Rewards Program from the first time you make a purchase at Hard Wax Solutions™.
The Fine Print
We promise this isn't too good to be true, But here are a few things to keep in mind when participating in our Wax Rewards Program:
Wax Rewards Points expire 2 years from the day that they were issued. So, if you haven't reached the 50,000 point threshold within those two years, your points may expire. Please check the status of your points by emailing: hardwaxsolutions@gmail.com

Points will be awarded at the time of check out. If you purchase a product, your points will be added once payment is received. Please allow 24 hours for points to become active. If you refer a friend who purchases our product, upon checkout please have them use your special referral code and you will get your points as soon as the payment has been received. If you refer someone who takes our class, upon checkout please have them use your special referral code.  Please allow 24 hours for your points to be active

Wax Rewards may not be redeemed for cash.

No double dipping! Some purchases may not earn points. For example, you won't earn double points if you buy yourself a gift certificate and use it on your own purchase. If we suspect abuse or other sneaky behavior, we reserve the right to terminate your enrollment in our program.

Wax Rewards are non-transferrable.

May not be valid with some special offers, sale items or special purchases.

We reserve the right to terminate or modify the program at any time.

You may not earn points on purchases or services made using third party gift certificates or tender.

Wholesale accounts may be enrolled in the program