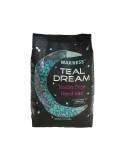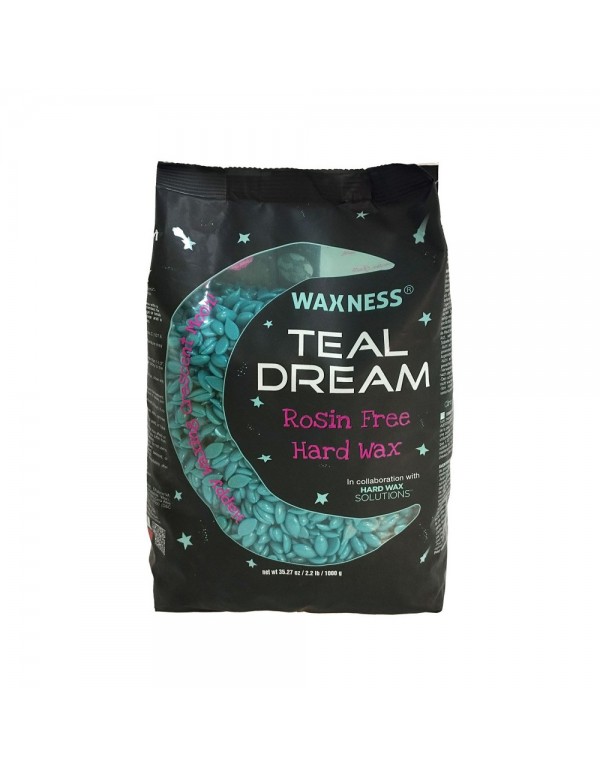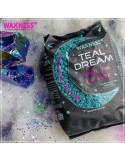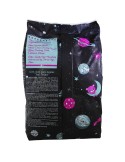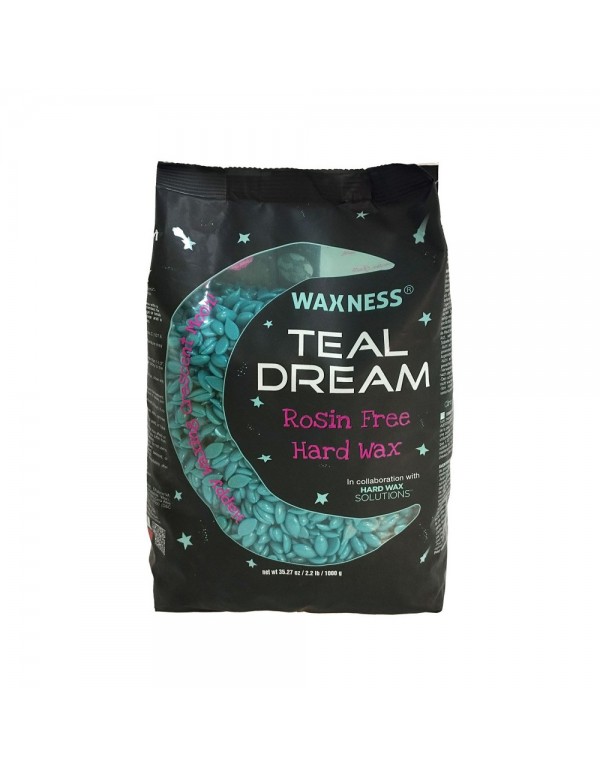  
TEAL DREAM ROSIN FREE SPARKLY HARD WAX 2.2 LB / 1 KG
Reference: SKU015639
Waxness Teal Dream is a rosin-free performance hard wax with a demi creamy consistency. Very versatile, it is recommended for sensitive skin and it performs very well applied on large or small areas. It has a glamorous enticing sparkly appearance and a modern color that is also very visible on any type of skin.
The bag design is inspired by Le Petit Prince, the theme is surreal childish like a child's dream and the main design element is a "Waxing Crescent Moon" a phase in which the moon transition from New Moon to Full Moon
The word "Waxing" has 2 meanings, for the Moon means that it is growing and for our product that we are waxing ????
 Crescent Moon especially in the waxing phase is a very powerful spiritual symbol in almost all cultures from Christians to Muslims and Mystics without affiliation. 
The 2 main colors are very modern and they create a strong visual identity, teal and magenta n a black background. 
Many elements are randomly mixed like in a dream. For example, the elements above the German language are the Florida Keys Islands also because the teal color is traditional there and it may be something you may dream about.
The handwritten note tries to describe the wax but also in a nonconventional way, with random words mixed like in a dream.
DIRECTIONS: 
1. Melt the wax over low heat. Temperature: max 42 degrees C (107.6 degrees F).  
2. Test for correct temperature. WARNING: incorrect temperature may cause skin burns. 
3. Ensure skin is clean. 
4. Prep skin with powder or antiseptic lotion if necessary. 
5. Evenly apply wax in the direction of hair growth, not wider than 1-1/2". 
6. The wax will be ready to remove once it is no longer sticky to the touch. 
7. Flick the lower part of the strip, keeping the skin taut. 
8. Pull the hard wax briskly against the growth of the hair, close and parallel to the skin.
WARNINGS: 
Please read the instructions in full before proceeding with the treatment. Failure to follow instructions and warnings may result in severe skin irritation, and other injuries.
-Prior to using, test a small area to be waxed and wait 24 hours. If no irritation occurs, you may proceed to use it.
-Do not apply wax on mucus tissues, blemishes, moles, warts, varicose veins, sunburns, or any inflamed areas. 
Do not wax if you use creams with tretinoin, chemical peels, or have had plastic surgery, without a doctor's release.
-Do not use it if you suffer from any medical condition that may affect or compromise the skin. Consult a doctor before using if you suffer from any skin-related disorders, circulatory problems, or diabetes.
-Do not use on nipples, perianal, vaginal, or genital areas. Do not use it to remove hair inside the nostrils, ears, eyelids, or eyelashes.
-Do not use on areas that have been shaved, waxed, tweezed, or treated with hair removal creams within a 24-hour period.
-Do not use makeup or other beauty cosmetics immediately after waxing.
-Do not wax the same area within a 24-hour period.
It-Not recommended for elderly people and diabetics.
-To avoid the danger of suffocation keep away from children. 
Do not ingest! For Licensed Beautician Use!
INGREDIENTS: Hydrogenated Polycyclopentadiene, Ethylene/VA Copolymer, Paraffin, Cera Microcristallina (Microcrystalline Wax), Calcium Sodium Borosilicate, CI 77891 (Titanium Dioxide), Cera Alba (Beeswax), CI 61565 (D&C Green 6), Tin Oxide, CI 47000 (D&C Yellow 11).
16 other products in the same category: